It's the Last Photo Page....Is it That Time Already?!!!!!!!!!!!
Over the last couple of pages we have been showing you uneditied stills from just one of our many movies. However whilst this may have been easy on the website creators, we also found that there is just too much to cover for all our films. therefore, we are abandoning that idea and using he stills from our films to help create more 'imaginative' works of art!!!!! (also the stills are quite boring)
Careful With That Sword Mr. Blonde!!!!!
On one of his frequent visits to Dr. Knevils' 'Secret Underground Lair' (Page 12, Grid Reference 5:6, of the AA Road Atlas of Great Britain Published 1992 by the way!!!) Pete Blonde accidentally decapitated Dentures!!! You can't take him anywhere can you?!!!!!!!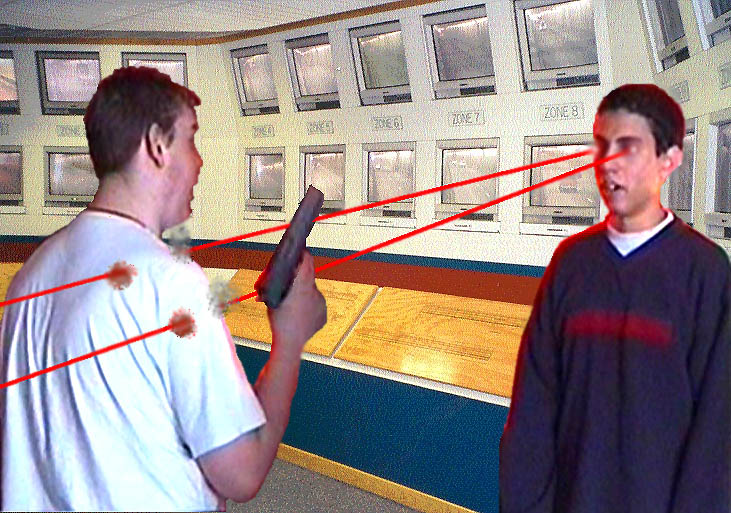 Ah yes...One Of Every Evil Genious's Dreams...Laser Eyes
Only Dr. Knevil could pull off a special effect this cheep looking. Yes, the laser eyes are a must for all those with an evil inclanation!!!!!!
Uh oh!!!!!!!
WHAT IS HE DOING?!!!!!!!! Anyway Dr. Knevil wouldn't destroy the United Kingdom would he? I mean you would have to be crazy to.......OH CRAP!!!!!!!
Dammit Urko, Just Give Up Already!!!!!
Yet another escape attempt by Urko. He knows that the website will soon be complete and is worried about Dr. Knevil and what he will do with him now that no more scrips are needed and the website is nearing completion!!!!! Not to worry though, a stealth craft of the Knevil Squadron is closing in on him!!!!! Perhaps the reason that it's stealth is why Urko clearly hasn't noticed it, he's in for a run in with Urko 5 the wooden monkey beater if he keeps this up!!!!!!
Ah....A Tropical Paradise
Urko, is causing more trouble yet again!!!!!! he made it accross the sea to a tropical island. Dr. Knevil was, unfortunately for Urko, holidaying there and sent his anti Urko squad to intercept him!!!! Armed with Mass Produced Urko 5 Monkey Beaters they try to knock nhim from the trees!!!!
Well We Did Warn Him!!!!!!
Urko has eventually been caught. He was sentenced to 15 years hard beatings with a wooden stick and life imprisonment in the penal colonies of the prostitutional mines on Sluttonia 6!!!!!! Ah well, it's not so bad Urko!!!!! At least you won't have to share a cell with Britney Spears anymore!!!!!!!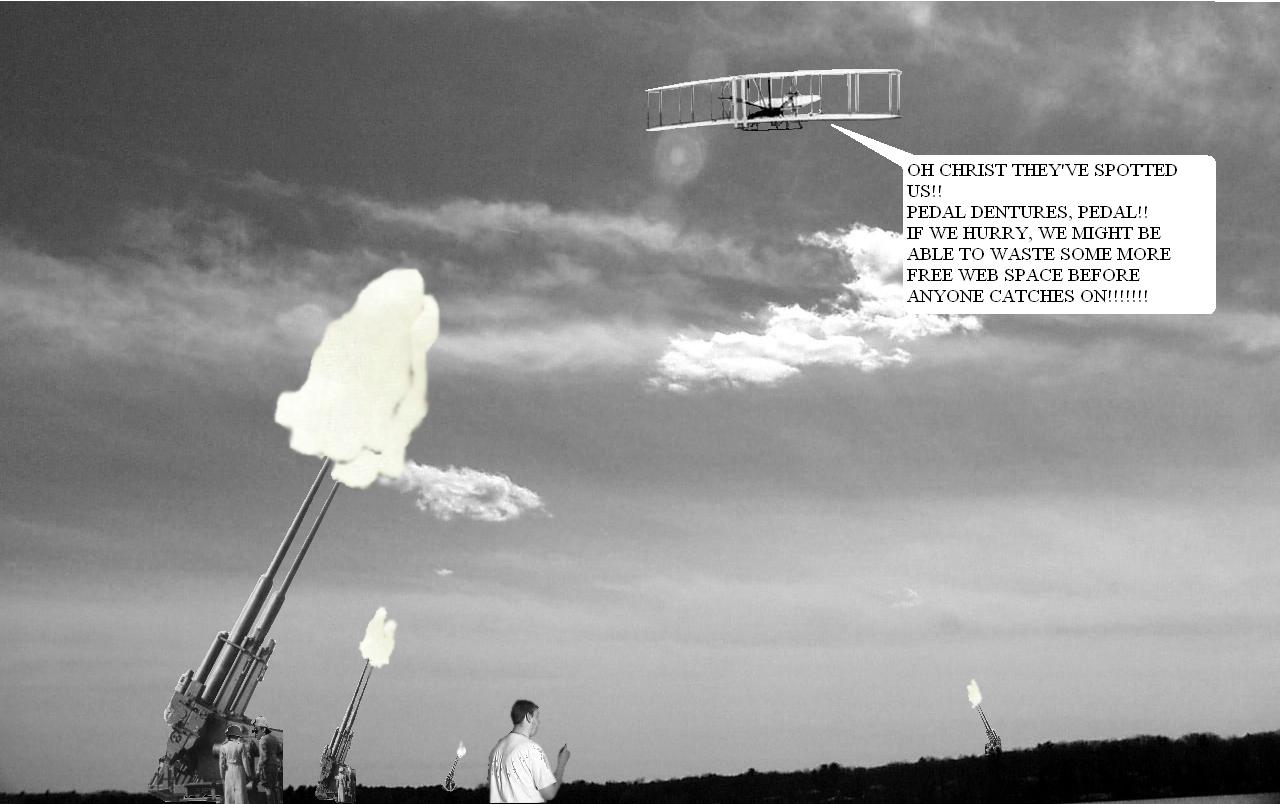 HURRY, STOP HIM, STOP HIM NOW!!!! IF YOU DON'T I'M SURE THAT I'LL HAVE TO MAKE ANOTHER WEBSITE!!!!!!
Shut up Urko. Dr. Knevil has been found out and has to make a VERY quick get away. Unfortunatley, what with Urkos' constant escape attempts there were very little spare parts left!!!! Hence Dr. Knevil now heads towards the White Cliffs of Dover and on to the Channel in his Dentures powered flying contraption!!!!! His plan....To crash in the sea, or carry on to spain..."Quickly Dentures, They've spotted us , if we get hit I'm blaming you.Spain is just across the Channel, I'll be Damned if I'm ditching in France!! Don't worry France isn't that big...honestly!!!! JUST KEEP PEDALLING DAMMIT, WE'RE LOSING ALTITUDE, PEDAL, NOW!!!!!!"